Meet Dr. John Colarusso (Dr. C)
A Helping Nature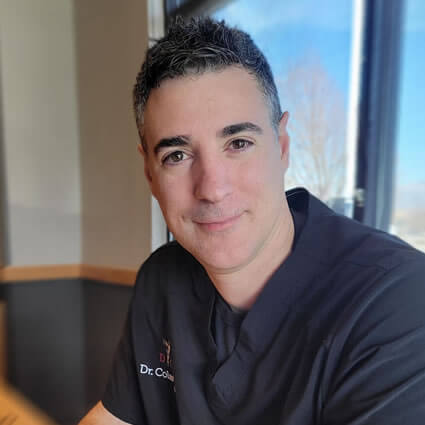 Wanting to care for others prompted Dr. Colarusso to get into the healthcare field. Originally a biology/pre-med major, he was leaning toward a career in physical therapy. A classmate suggested he look at chiropractic. Delving into the science, Dr. C saw it was based on the nervous system controlling everything in the body.
Dr. C chose chiropractic during his senior year in college. He was fortunate to meet a Palmer grad he could talk with about chiropractic. Growing up, he saw his dad prescribed more and more drugs, without getting better. Being able to help people get well without drugs is important to Dr. C.
Pursuing the Dream
Dr. C attended the prestigious Palmer College of Chiropractic in Davenport, IA, graduating in 2002. He opened his practice in 2007, and has since served the people of Riverton, getting them out of pain and back into their lives. Dr. C is committed to promoting optimal health and well-being for all his patients.
Over the years, Dr. C has cared for thousands of patients, performing over 100,000 adjustments! He has cared for patients of all ages, from newborns to great-grands; Olympic athletes to weekend warriors, and everything in between. Addressing all types of conditions and issues throughout the body has given him the skills and expertise to help you.
The Practice Today
Dr. C believes if we don't take care of our bodies through chiropractic care, exercise, diet and nutrition, sleep, stress reduction, and family time, they will break down to the point where fixing them will be extremely difficult.
OUR SERVICES
When the Clinic Closes
Dr. C has always been very sports oriented, playing baseball in school. His son is following in his footsteps, being active in several sports. Dr. C helps him hone his skills and gets him to his various games and practices. When he has time, Dr. C likes to go to the gym, hike and bike.
Get Started Today
Contact us today to make your first appointment and start changing your life for the better.
---
Dr. John Colarusso | (801) 878-3645